Cottage, Bed and Breakfast and
other meals in the Cevennes

Patricia and Hans welcome you with conviviality






Patricia Tholet & Hans - Dieter Röcher
welcomes you "Au Portaou" in Valcrouzès
GPS : N 44° 24' 54.85'' E 3° 56' 24.68''
48800 Saint-André Capcèze
France
Phone 00 33 ( 0)4 66 46 20 10
e-mail : au-portaou@wanadoo.fr
sites Internet : cevennes-mont-lozere.com
www. au-portaou.com





Healing, relaxation, serenity, calm, introspection and the essential values of life, that's what "Au Portaou" offers you in this peaceful place.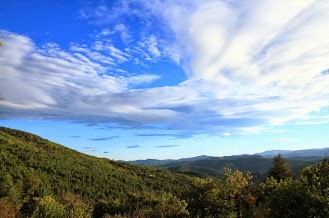 Guide Routard



charte tourisme durable en partenariat avec le Parc national des Cévennes et de Cévennes-
écotourisme
Nos engagements : *

www.a-chambrehote.fr
WIFI ACCESS

Saint Valentin :



Reduction cottage in Febr & March
"Au Portaou" welcomes you amidst unspoiled nature, close to the Chassezac gorges and the Mont Lozère ; not far from the Gard and the Ardèche, close to Villefort and Les Vans.

While arriving you will be surprised by our characteristic farmhouse in Cevennes style, with an inner court yard and stout stone stairs.
Also the vine covered veranda and the surrounding buildings will remind you of the rustic past.Here you will enjoy a micro-climate resembling the Mediterranean climate.

Tranquility and unspoilt nature. await you in this green heaven. Numerous calming and romantic spots, as the one where our spring arises.

The farmhouse (Le Mas) has been restored in the original Cevennes style. The rafters and flooring are made of honest chestnut timber with a soft gleam.
The summer kitchen, which our guests may use, is fully equipped: dish-washer, gaz cooker with oven, fridge, washing machine (cost is 3 euros, including environment-friendly washing liquid).

You will find cooking utensils as well as cookery.
Possibility to make yourself a tea or coffee...
You are kindly requested to leave the kitchen clean and tidy.

A bread oven : according to our disponibility in summer, we organise the manufacturing of dough and invite you to make and taste pizza, quiche ... then all hands in the dough.

New : a new guestroom called "La bergerie", situated in a very ancient building of 34 m2 (on 2 levels) entirely restored. Calm and romantism on rendez-vous.



New: To avoid tp polute our beautiful planet I make my "household" products myself, ecological and economical.
You will leave with samples and a recipe booklet full of tips Participation in this activity: 10 euro

# charte tourisme durableNous nous sommes engagés dans la charte
européenne du tourisme durable en partenariat avec le Parc national des Cévennes (PNC) et de Cévennes-
écotourisme (C-E). Adhérents de CE depuis 2004 et signataires depuis 2006. Nos engagements

- respecter notre environnement en n'utilisant aucun pesticide et en faisant une culture sans additif et faire du compost pour notre jardin avec les déchets verts
- mise en place de panneaux solaires (eau chaude et appoint chauffage)
- mise en place d'une chaudière à pellet et de poêles à bois à double combustion
- utilisation de produits écologiques et maison (possibilité de faire un stage sur place)
- faire le tri des déchets (verre, papier, toutes matières récupérables,........)
- économiser les différentes énergies grâce à certains dispositifs mis en place (douche, wc, ...............)
- consommer les produits alimentaires locaux, de saison et majoritairement biologiques
- nous avons restauré notre mas traditionnel cévenol avec des matériaux écologiques: toits en lauzes et isolation à base de fibres de bois, plafonds et planchers en châtaignier, enduits de sable et chaux, peintures à base de chaux et minéraux.....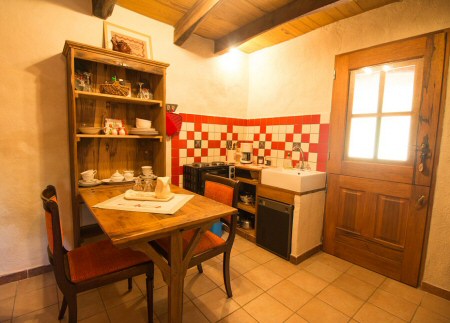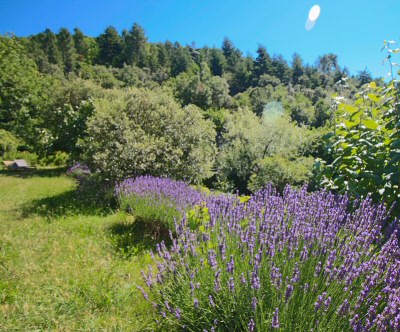 Chambres et table d'hôtes "Au Portaou" - Patricia Tholet & Hans - Dieter Röcher
Valcrouzes - 48800 Saint-André Capcèze - France
Tél. 04 66 46 20 10
courriel : au-portaou@wanadoo.fr

© 2002 - 2016 www.cevennes-mont-lozere.com | mentions légales | Présent sur Causses Cévennes